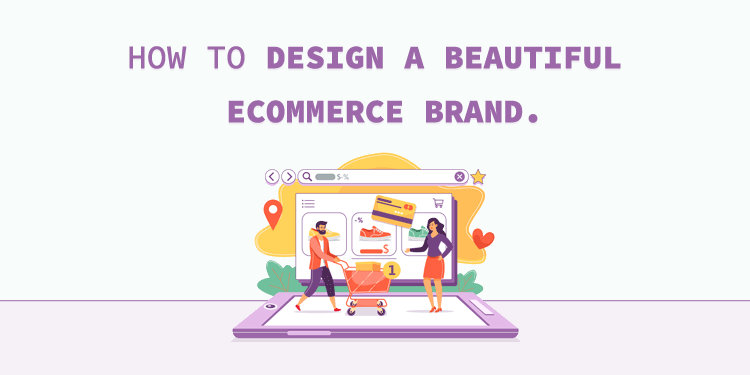 How to Design a Beautiful eCommerce Brand
These days it's easy to get an ecommerce store up and running. There are countless themes and integrations available. Platforms like Shopify, Magento and BigCommerce make life much easier for ecommerce entrepreneurs. Simply launching your website isn't enough to build a professional brand however. Let's look at some tips and design principles to help you build a beautiful and professional ecommerce brand.
Set a Strong Foundation With Your Logo
Your entire brand, including your website design should be based off your logo. The design choices you make here will direct the rest of your branding. Before you choose an ecommerce template or go the route of a custom build you should get your logo done. If you have already purchased a website template that's ok too. You'll just have to work in reverse order, match the colors of your logo to your website. When it comes to logo design there are lot of options available. You can hire a freelancer, a graphic design studio, host a design contest or do it yourself. If you feel creative you can use a free tool like the GraphicSprings Logo Maker to create your own design.
Brand Your eCommerce Site
Your logo and website need to match. All too often you come across a website that looks professionally done just to find a mismatched logo in the top left corner. This inconsistency comes across as unprofessional. To avoid this simply repeat the core color of your logo as accent pieces across your website. You can also incorporate the secondary colors used in your logo design. In addition to matching the color you could also use matching or complementary fonts for your website content. If you don't have a design background this is a daunting task. Canva offers a free font combination tool. Once you know the name of the font(s) used in your logo you can then find complementary typography.
Make Sure Your Social Media is an Extension of Your eCommerce Site
Whether your customer lands on your website or one of your social media accounts the visual experience should be in line. As you build out your social media presence make sure all of your channels incorporate your brand colors, fonts and logo. Creating consistency is in the details when it comes to branding. For example each social media platform has different file type and size requirements for uploading a logo. Don't just use the same logo file and upload it to all of your channels. If you don't use the exact dimensions your logo might look blurry. In addition to making sure your logo is in place incorporate your brand colors and images. Images are often overlooked. For your social media posts find a set of professionally photos that represent your business message. Then use those images exclusively across your social media and in places like your home page image slider or blog posts.
Don't Forget About Your Ads
Your ad is often the first interaction between you and a new prospective customer. If your ad design looks one way and then they land on your ecommerce site or social media and that visual experience is different it create a disconnect. Some of the big advertising platforms offer ad templates. It's best to avoid those because they often look generic and won't be consistent with your brand. Whether you have your ad designs professionally designed or use a do-it-yourself tool make sure it's brand consistent, i.e. incorporate your logo, brand colors, and image and font sets. Of course when it comes to ads you have a bit more freedom to get creative but if you follow those guidelines you can't go wrong.
Match All of Your Other Communication Forms
Any time one of your customers interacts with you and your business they should be exposed to consistent branding. Your email signature, your weekly newsletter your customer support messages should all be consistent in design and represent your brand. Branding doesn't stop with design. Make sure your messaging is also consistent and in line with your company goals and values. Once you know what message you want to convey find a style and tone of writing and use that consistently across your website, social media and any other communication form such as email.
In closing
Creating and managing a beautiful ecommerce brand can be challenging, especially if you don't have a design background. However, if you focus on your core brand assets and ensure consistency when it comes to implementation you are well on your way. It pays to take some time to figure out what brand message you want to convey before you get started on your branding journey. With that in place remember branding is all about consistency. Show off your logo, incorporate your brand colors as well as matching fonts and images in all of the brand assets you design.